Campus international - Gemeinsamer Austausch über Chancen und Herausforderungen in Studium, Lehre und Campusleben - Hochschullehre im Gespräch
12.12.2022
Weltoffener Campus, Vielfalt und globale Netzwerke sind Schlagworte der Internationalisierung an der UBT. Aber wie gestaltet und lebt sich das konkret im alltäglichen Miteinander? Wir möchten dafür einen Austausch zwischen LEHRENDEN und STUDIERENDEN schaffen. Ihre Perspektiven und Meinungen sind gefragt! Sie sind eingeladen!
Die Veranstaltung "Hochschullehre im Gespräch" ist ein bewährtes Format an der Universität Bayreuth und bietet ein Forum zum Austausch für Studierende und Lehrende. Die Fachschaft Fakultät IV (Sprach- und Literaturwissenschaften), der Lehrstuhl für Interkulturelle Germanistik und das Zentrum für Hochschullehre (ZHL) laden Sie herzlich ein, diese Veranstaltung zu besuchen!
Termin: 12. Januar 2023, 16-19 Uhr, Konferenzraum des Studentenwerk Oberfranken (SWO), Gebäude neben ZUV
Joint exchange about opportunities and challenges in studying, teaching and campus life
A cosmopolitan campus, diversity and global networks are buzzwords of internationalisation at UBT. But how does this take shape and live out in everyday interaction? We'd like to create an exchange between TEACHERS and STUDENTS. Your perspectives and opinions are needed! You are invited!
The event "Hochschullehre im Gespräch" (Discussing University Teaching) is a proven format at the University of Bayreuth and offers a forum for exchange for students and teachers. The Student Council of Faculty IV (Linguistics and Literary Studies), the Chair of Intercultural German Studies and the Center for Higher Education Teaching (ZHL) cordially invite you to attend this event!
Date: January 12, 2023, 4-7 p.m., conference room of the Studentenwerk Oberfranken (SWO), building next to ZUV.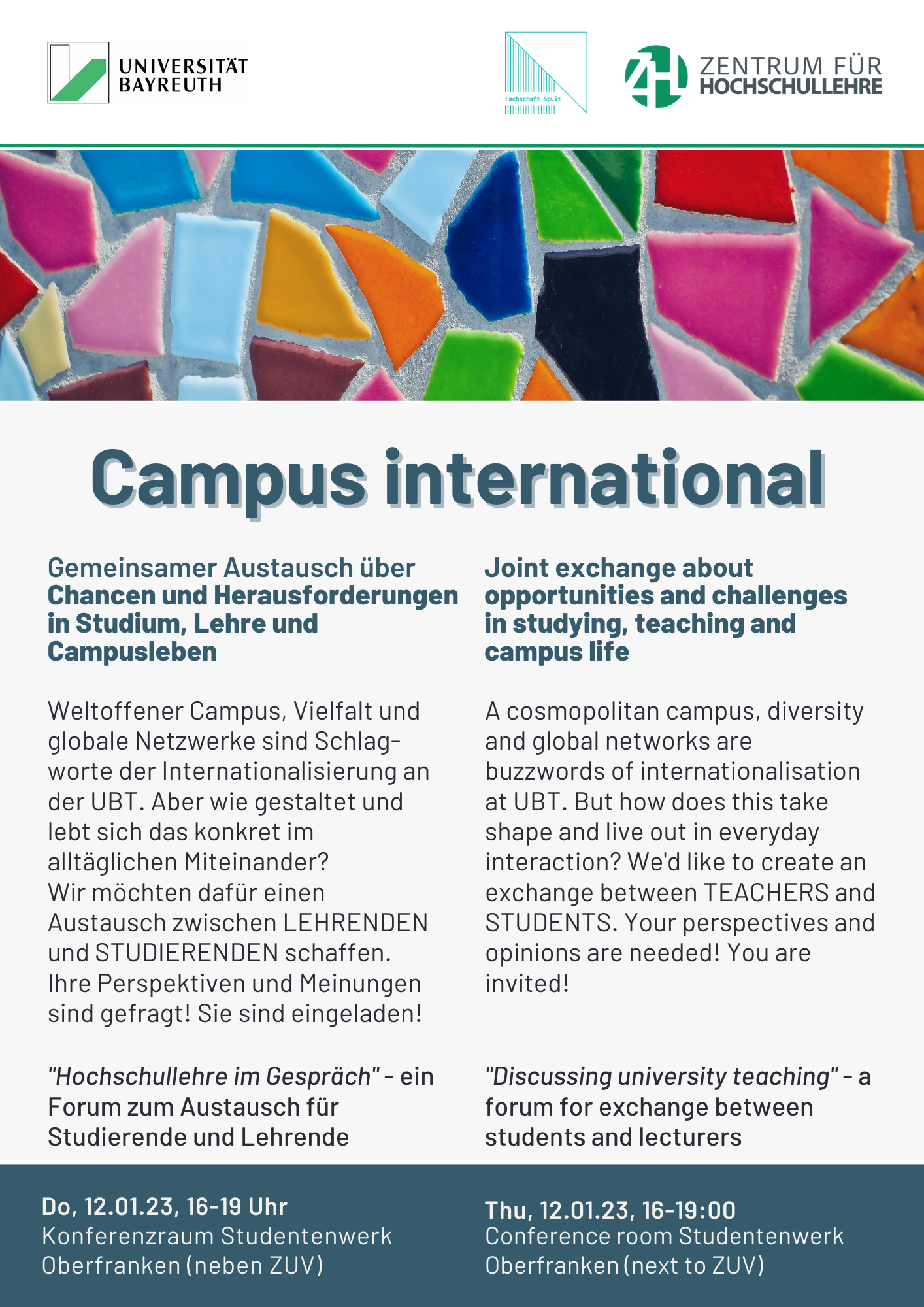 Informationen zum Ablauf:
Kurze Einführung – Impulse
World Café - Austausch an 5 moderierten Stationen mit ExpertInnen zu folgenden Themen:
Lehre international aus der Perspektive von Studierenden
Lehre international aus der Perspektive von Lehrenden
Prüfungen im Kontext Lehre international
Sprachbarrieren
Socializing
Vorstellung der Ergebnisse, Diskussion im Plenum und Abschluss

Short introduction - Impulses
World Café - exchange at 5 moderated stations with experts on the following topics:
International teaching from the perspective of students
International teaching from the perspective of teachers
Examinations in the context of international teaching
Language barriers
Socializing
Presentation of the results, discussion in plenary and conclusion
Arbeitseinheiten / Working Units
Lehrende, die Arbeitseinheiten für ein hochschuldidaktisches Zertifikat erhalten möchten, melden sich bitte in diesem Kurs hier an.
Lecturers who would like to receive working units for a certificate in higher education didactics, please register in this course.
Students do not need to register, but can simply drop in and join the discussion. //
Alle anderen können gerne ohne vorherige Anmeldung an der Veranstaltung teilnehmen.