Videos: E-tutors' experience during summer semester 2021

You can watch all e-tutors reflecting on their experiences in this video playlist. Link to playlist on YouTube.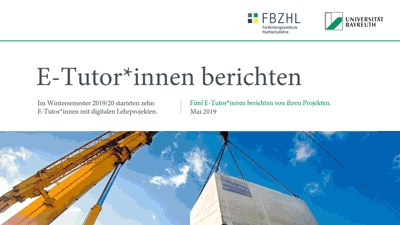 Video: Experiences from the winter semester 2018/19
Which projects were supported by e-tutors during the semester, and what were their experiences like? Find out in this video!
Video: Experiences from the winter semester 2017/18
We asked e-tutors to talk about their projects:
What project did you work on?
How did using digital teaching and learning resources benefit this event?
What did this job teach you for yourself?
Watch the video in full size here.
Curriculum
During their training, students gain skills in these areas:
Consulting teachers in selecting adequate digital resources for teaching
Co-designing lectures with digital elements
Producing learning videos (Screencasts, Streaming)
Consulting on questions concerning copyright
Supporting throughout the teaching process
Download the complete curriculum here.